The Woody-Milky relationship refers to the friendship between Richard "Woody" Woodford and Michael "Milky".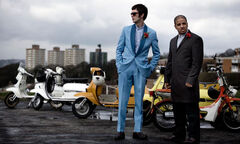 Relationship History
[
]
Woody and Milky went to school together, and fought for Lol's attention by buying her crisps, with Lol eventually dating Woody.
1983
[
]
Woody and Milky are best friends, and share a brotherly relationship, with Woody referring to Milky as his "main man." After Combo's return from prison, he tells a racially aggravated story of his experience with a Jamaican man. A few days after, the gang go to Combo's apartment on his request and he delivers yet another racially charged speech. Combo calls Woody "a snake" for failing to stand up for Milky against Combo the previous night, and Woody apologises to the hurt Milky and promises his failure to intervene will never happen again. The last time they are seen together is at Smell's birthday party where they leave along with Lol, Milky's girlfriend Pob, Kes and Pukey.
1986
[
]
Despite the events of the first film, the two are still best friends. However, Milky starts an affair with Lol behind Woody's back and when Woody confides in Milky about his relationship struggles with Lol, Milky pretends he knows nothing. Milky ends his relationship with Lol due to guilt and convinces Woody to marry Lol again, which doesn't go ahead due to Lol's father's death. Off screen, Lol becomes pregnant with Milky's child, causing him and Woody to fall out, and Woody self-isolates from the gang.
1988
[
]
Due to the events of 1986, Woody and Milky are not in contact and Woody has exiled himself from the gang. On December 23rd, Woody stops by a pub that the gang are performing karaoke at and spits at the window when he sees Milky and leaves. On Christmas Eve, he bumps into members of the gang, including Milky. Woody cries to Milky about his betrayal and the effect it's had on him, and then physically attacks him, calling him a "snake in the grass", referencing what Combo called him in the first film. On Christmas Day they meet again at hospital after Lol had overdosed, and Woody tells Milky he loves him and they seemingly make up.
1990
[
]
Woody and Milky are back to being best friends, and they both share father duties of their children, Lisa (who is Milky's biological child with Lol) and Jimmy (Lol and Woody's son). All is settled until at a Sunday dinner when Lol tells friends and family the truth surrounding her father's death and Combo coming out of prison, with him staying at Lol and Woody's upon his release. Milky rages at Woody and Lol, in disbelief that they would let Combo stay at the same house as his black child. Woody begs Milky to see past it and forgive Combo as he is a changed man, but adds he will never forgive Combo for nearly killing Milky. However, this fails as Milky goes ahead and arranges with family members to take revenge on Combo. They are not seen together after, as at Woody and Lol's wedding, he distances himself, full of guilt.