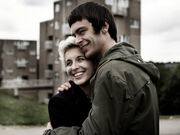 The Woody-Lol Relationship refers to the romantic pairing between Richard Woodford and Lorraine Jenkins.
Their relationship is sometime referred by the the fan-given nickname Loody (taken from Lol and Woody).
Relationship History
[
]
Before This Is England

[

]
Lol, Woody and Milky all went to school together, and the two boys fought for Lol's attention by buying her crisps. Lol then chose Woody and then went on to date him for a considerable amount of time. They had each other's names tattooed on their hands.
1983
[
]
The film starts off with Woody and Lol already in a relationship, and the two avoid Combo in his racial-fueled outbursts. Woody introduces Lol to Combo as his "other half". When Combo tells a story of his experience in prison with a black man, Lol insinuates to Woody from across the room that he needs to intervene. They leave when Combo yet makes another racially aggravated speech to the gang in his apartment a few days after, and when he turns up to Smell's birthday party.
1986
[
]
In 1986, they are ready to be married, but this is halted due to Woody's reluctance and Meggy suffering a heart attack in the toilets of their wedding venue. Their relationship gradually deteriorates, and the couple arguing in their newly bought flat, which Woody got cheap, as it used to be a drug dealers squalor who died there. Woody fails to recognise and respond to Lol's turmoil after her abusive father returns, and dedicates more time to his demanding job than to her. Lol then starts to have an affair with Milky, which ends and Milky convinces Woody at the end of the series to finally marry Lol, which does not go ahead due to Lol's father's death. They are last seen together seemingly having made up. Off screen, Lol then gets pregnant with Milky's child and Woody goes into isolation from the group.
1988
[
]
In 1988, Woody has found a new girlfriend, Jen, who supports him in his new life away from his old friends. Lol is living on her own with her two year old daughter Lisa. After seeing the gang on Christmas Eve and a fight with Milky, he has a conversation with Jen where she reminds him that she "is not Lol". On Christmas Day he is informed by Trev that Lol has attempted suicide and he hysterically rushes to hospital. He arrives and initially believes that Lol is dead due to the silence in the room and the made up bed but is told that Lol is alive. He finds Lol in a downstairs room having a cigarette and they reconcile, with Lol telling Woody about her struggles and that she killed her father. They are last seen embracing each other.
1990
[
]
In 1990 the couple are living happily together in their own house raising Lisa and their son, Jimmy, with Woody being a stay-at-home dad whilst Lol works as a head dinner lady at a school. Woody agrees to Combo staying with them upon his release from prison, and supports her through the process of telling their family and friends the truth around her father's death and Combo coming out of prison. On the night of Combo's return, he proposes to her and they plan their wedding. In the final episode, the couple finally marry.