Trudy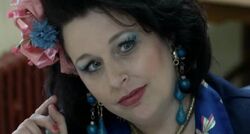 Portrayed by
Hannah Walters

Trudy, is a fictional character in the television series This Is England, and she is portrayed by Hannah Walters.
Characterization
[
]
Trudy appears all over the place throughout the This is England series from the infamous shoe shop scene to her romantic entanglements with quite a few of the gang, most notably Gadget and Meggy.
Character History
[
]
1983
[
]
Trudy works in the shoe shop and helps Shaun and Cynthia choose a pair of school shoes. Shaun wants Docs, yet Trudy encourages him to purchase the leather shoes from London.
1986
[
]
Trudy is now seen working as a receptionist at the wedding venue. She is training to be a registrar to marry people. It is later revealed she has a son with Meggy, after Gadget and her from a relationship. The dominating part of the relationship, she dresses him in jumpers and makes him grow a moustache whilst they engage in somewhat aggressive lovemaking. Gadget then finishes with her, leaving her in a state.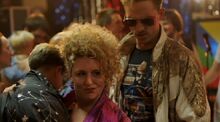 Sex obsessed, and with a fetish for Clark Gable, Trudy is also presented as a down-to-earth, working-class single mother with a yearning for a male she can dominate. Although Meadows veers away from male protagonists, the representation of women arguably remains problematic. Lol and Trudy both become victims; Lol has suffered at the hands of her violent, sexually abusive father and Trudy seemingly cannot hold down a relationship.
1988
[
]
Trudy appears at the karaoke at the local pub.
1990
[
]
Trudy appears dancing seductively with Flip and Higgy at Woody and Lol's wedding reception.
Trivia
[
]
It is revealed she has been with the majority of the gang, including Harvey, Woody, Milky and now Gadget.
She is the wife to Stephen Graham who plays Combo.