Jurassic World: Dominion Dominates Fandom Wikis - The Loop
Play Sound
Michelle "Smell"
Series
'83, '86, '88, '90
Born
1967, Nottinghamshire, England
Occupation
College student (1990)
Family
Unknown father (mentioned)
Michelle, more commonly known as just Smell, is a fictional character in the television series This Is England, and she is portrayed by Rosamund Hanson.
Characterization
[
]
Michelle (known as Smell) was a young woman growing up around Nottingham in the 1980's. She hung around with Lol, Kelly, Trev and the other skinheads in the gang.
Character History
[
]
1983
[
]
Born in 1967, in 1983 she met Shaun Fields, who had recently joined the group, and began a relationship with him. He and others turned upto her 16th birthday, and shortly after she accompanied Shaun to Combo's flat where Banjo, Meggy, Milky and Gadget were there getting high. She left to take Gadget home, and while she was gone Combo beat up Milky. Because of that incident, Shaun grew apart from the group and Smell didn't see him much anymore.
1986
[
]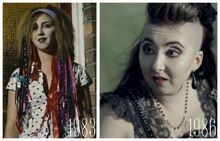 In 1986, after Woody and Lol's wedding was interrupted by Meggy having a heart attack, Smell ran into Shaun at the hospital. She convinced him that what had happened was not his fault, and he began hanging around with the gang again. They went to a party at Carrotbum's house, and she and Shaun began seeing each other again. She comforted Shaun after he ran away from home due to his mother sleeping with Mr Sandhu. She and Shaun then went back to his mother's house to make up but they ended up having simulated sex on the sofa when she walked in. They watched the world cup game together but it was interrupted by the return of Combo. Later she had sex with Shaun in the pub toilets.
1988
[
]
In 1988, Smell and Shaun were still seeing each other, but the relationship was beginning to weaken. She caught him masturbating in the toilet instead of having sex with her. Shaun was getting irritated with her when she was helping him rehearse for his christmas play. When she went to watch the play, she went backstage to wish Shaun luck but found him kissing his co-star Fay. Annoyed, she left, but went to the aftershow party to make up with Shaun. However, she found him in bed with Fay having sex, so she angrily broke up with Shaun and left.
1990
[
]
In 1990, Smell is attending a local arts college and has started with a new relationship with Harrison, a fellow goth. Shaun tries to win her back by inviting her to an upcoming rave disco but she half-heartedly accepts saying she might attend. When Smell decides not to go after all, she sends Harrison in her place to tell Shaun that she couldn't come and she wants the bad blood between them resolved; Shaun does not take this well and attacks Harrison, causing a fight between the gang and Harrison's goth friends.
She is then seen at the wedding, acting strange and trying to dance with Shaun, after he tries to make amends. This heavily suggests she still hasn't gotten over him.