Shaun Fields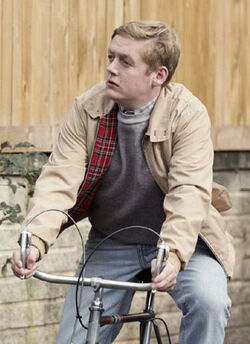 Also known as
Shauno, Ginge
Series
'83, '86, '88, '90
Born
1971, Glasgow, Scotland
Occupation
Shop assistant (1986)
Shaun Fields, is a fictional character in the television series This Is England, and the protagonist in This Is England, he is portrayed by Thomas Turgoose.
Shaun was born in 1971 in Scotland, as revealed in 1990. During 1983, he was a 12-year-old schoolboy who joined a skinhead gang, lead by Woody, and then Combo. Having lost his father in the Falklands War, he has had a hard time fitting in at his school.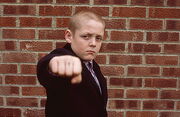 Shaun met Woody after being bullied at school, who introduced them to his gang and he gained new friends. However, Combo, an old friend of Woody's, returned from prison and divided the gang by introducing racist views to them. Shaun, wanting to make his father proud, sided with Combo and attended National Front meetings. However, his friendship with Combo ended when he went violently attacked Shaun's black friend Milky. Shaun distanced himself from all of his friends, ashamed of his actions and what had happened.
Shaun finishes his exams and rejoins the group. He is bullied by Flip. He helps Combo gain his footing after stumbling into Shaun's house and losing his mother. Shaun begins working for Mr Sandhu in his video shop, yet discovers his mother is sleeping with his boss. Shaun runs away from home.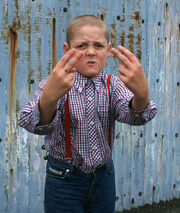 Shaun carried on his relationship with Smell until Christmas of 1988, when he was cast in a school play and cheated on her with his co-star Fay. Ashamed at himself, he spent Christmas alone with his family.
Shaun now 19, is now a member of the young gang, attending raves and the Madchester town hall night. He is struggling to stay happy without Smell. After gaining a place on a photography course and Cynthia buying him the latest camera, at the local college he meets Juliette whom he forms a relationship with. At Woody and Lol's wedding, he is seen fighting off an estranged Smell.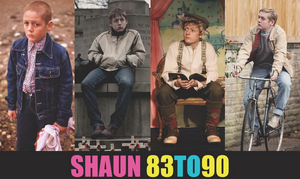 In the IMDB cast for Shane Meadow's other film A Room For Romeo Brass, it says Male Nurse (as Shaun Feilds) and played by Shane Meadows.
Shaun is based on a young Shane Meadows. The becoming a skinhead, being involved in the rave/Madchester scene and then starting a photography course (which Meadows recently collected an abandoned BA in from Nottingham Trent University) are all experiences that Meadows went through in the 80s.
Even the name is similar: Shane/Shaun and Meadows/Fields.
Turgoose was 13 at the time of filming. He had never acted before, was banned from his school play for bad behaviour, and demanded £5 to turn up for the film's auditions. The film was dedicated to Turgoose's mother, Sharon, who died of cancer on 29 December 2005; while she never saw the film, she saw a short preview. The cast attended her funeral.
Community content is available under
CC-BY-SA
unless otherwise noted.