Jennifer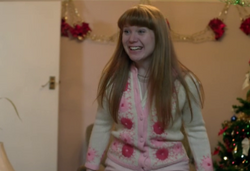 Portrayed by
Stacey Sampson
Also known as
Love, sweetheart, my former lover (by Woody)
Family
Unknown (Divorced)
Jennifer is a fictional character in the television series This Is England, and is portrayed by Stacey Sampson.
Character History
[
]
1988
[
]
Jennifer makes her first appearance in the first episode of This Is England '88 as the new girlfriend of Woody. She is a cute girl but she seems to come from another galaxy, if compared to the other female characters. She gets along well with Woody's parents, who are very proud of her and treat her like a daughter.
Jennifer represents a stable and socially acceptable future for Woody: he still rocks tattoos on his arms, but he has changed a lot and seems interested in pursuing a career and middle-class dreams.
Jennifer has dark blonde and long hair with a deep fringe (bangs), a fair complexion and blue eyes. When we first see her, Jennifer is sporting her trademark outfit, which includes mid-length skirt, shirt and embroidered cardigan/sweater. She's a younger version of Woody's mother: her clothes – in pastel or powdery colors – have romantic decorations; she's always bare-faced and wears no jewellery. She embodies the image of the "good girl", in opposition to Woody's former girlfriend, who had a child with his best friend.
1990
[
]
Jennifer looks after the children in 1990, and stays at the Woodford's residence after her parents have split up, much to the confusion and annoyance of Woody. She assumes herself to be Lol's bridesmaid, but is then appointed to be chief flower girl after much arguing. She is lastly seen at the wedding crying.