Fay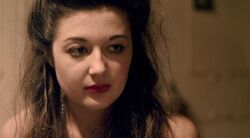 Portrayed by
Charlotte Tyree
Family
Father (unknown name)
Fay is a fictional character in This is England '88, serving as Shaun's secondary love interest.
Bio
[
]
1988
[
]
As Shaun's relationship with Smell gradually begins to deteriorate, he bonds with Fay, who is participating in the same play as Shaun in their drama school. For her part, Fay begins to develop feelings for Shaun, which are amplified when they are to rehearse a scene of the play which involves them kissing passionately. One night, when Shawn and Fay were practicing lines in Fay's bedroom, Shaun and Fay practice their kiss but end up kissing longer than expected and caressing each other. Shaun, however, tells Fay that he cannot be with her since he already has a girlfriend, but hints that he would date her if he was not with Smell.
On the night of the play, Fay and Shaun rehearse their kiss backstage before the play and are seen by Smell, who grows jealous. The after-play party is held at Fay's house, but Fay stays in her room, isolating herself until Shaun enters to speak to her. He explains the situation to her and they both agree to part ways, but give in to desire and end up having sex. Unfortunately, Smell walks in on them, having come to find Shaun and apologise to him for her jealousy, and angrily breaks up with him. Fay, meanwhile, is visibly heartbroken when Shaun attempts to tell Smell how much he still loves her, realising that Shaun does not care about her and is in love with Smell.
Fay is not seen again after this, and it is implied that Shaun severed his ties with her, since he refers to her as a "slag".