Cynthia Fields
Cynthia Marie Fields, is a fictional character in the movie This Is England and is the mother to the film's protagonist, Shaun Fields. She is portrayed by Jo Hartley.
Character History
[
]
Early Life
[
]
Cynthia is in her early 30's, a housewife and a mother. She comes from a northern, working class background. She has a younger brother, her mother died when she was 14 years old, leaving her to look after her father and brother. She met Shaun's father at school, courted for a few years then got married at 18. Cynthia got pregnant shortly after. Shaun was her first and only child. Her father was a strict man, but she had a good relationship with him. Cynthia's upbringing was normal and happy until she lost her mother.
1983
[
]
At the start of the film, Cynthia is shown to be a loving mother to Shaun, and takes care in looking out for him as he joins the new group. She is displeased at his shaven head but happy that the gang purchase him new clothes.
1986
[
]
During the television series, she persuades Shaun to apply for a job the day he finishes his exams. Later in the series she begins a sexual relationship with Mr Sandhu, much to Shaun's horror. Reconciling with him after walking in on him engaging in intercourse with Smell, the three watch the football.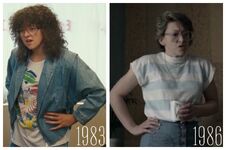 1988
[
]
Cynthia and Mr Sandhu have been together a while, and look out for Shaun when he is distraught about cheating on Smell. She encourages him to follow on with his play.
1990
[
]
Cynthia buys Shaun a camera for his course. (to be added)
Trivia
[
]
Cynthia is present throughout the entire This is England series.